about us
RETHINK FABRICS' MISSION IS TO DIVERT PLASTIC FROM THE OCEAN. WE CREATE INNOVATIVE, QUALITY T-SHIRTS MADE FROM RECYCLED PLASTIC WASTE AND BROUGHT TO LIFE WITH A SIMPLE STORY. WE ARE MAKING A DIFFERENCE FOR THE FUTURE, BRINGING RECYCLED TECHNOLOGY INTO THE MAINSTREAM AND RETHINKING PLASTIC WASTE IN AN UNPRECEDENTED WAY. OUR 100% RECYCLED POLYESTER, ALSO KNOWN AS RPET, DELIVERS SUPERIOR SOFTNESS THAT LOOKS AND FEELS LIKE NOTHING ELSE YOU HAVE WORN BEFORE IN THE SUSTAINABLE MARKET.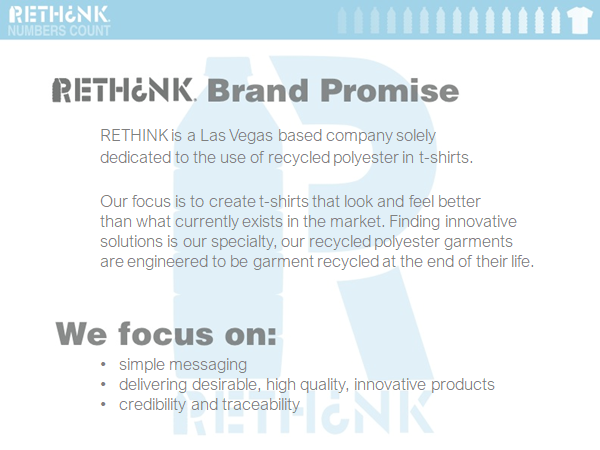 Since 2008, Rethink Fabrics has been redefining the standard for producing high quality garments with the environment in mind. Our story begins with a bottle count of each garment. Rethink manufactures and distributes apparel produced entirely from recycled plastic bottles. By exclusively focusing on recycled plastic waste as a valuable resource in the manufacturing process, Rethink is creating quality clothes from what most consider trash. We sell to a variety of customers, including wholesale, and retail. Our garments are offered branded and co-branded. Our goal is to promote recycling in the mainstream by re-purposing plastic waste into a t-shirt.​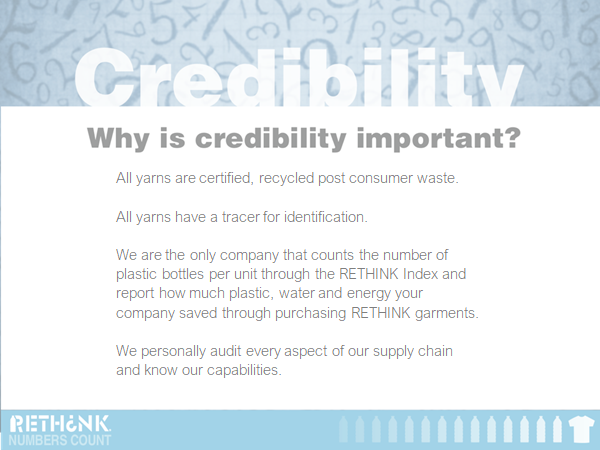 ​​Rethink exclusively specializes in rPET garments, boasting product performance and product detailing, such as competitive anti microbial and wicking features. Rethink creates high quality basic apparel that is innovative and certifiable through a tracer in the US fiber and the environmental benefits of the garments are measurable through our Rethink Index. Garment recyclable garments to end waste and complete cradle to cradle cycle. RETHINK's core garments have been engineered for garment recycling; at the end of its life a RETHINK garment can be reclaimed and transformed into a new garment. The old shirt is shredded and turned into PET crystal, the fabric or garment recycled crystal is then extruded and turned into new apparel grade fibers.
BENEFITS OF RETHINK:
Each garment easily identifies the numbers of plastic bottles in each product
Superior soft hand feel and currently best in the market
Rethink Index provides metrics that allows you to track and promote your efforts. The measurements can be used as a carbon offset and a total environmental impact statement will be sent at year end
High quality – in garment performance and product detailing: anti-microbial and wicking
100% rPET garments and specialized expertise in rPET products only
Garment recyclable garments to end waste and complete cradle to cradle cycle
We have control over and a tight supply chain, from fiber, yarn, cut, sew to finishing
All garments are certified and traceable to ensure credibility
We help the environment by taking a plastic waste problem and turning it into a desirable resource
Rethink promotes and educates about the benefits and possibilities of plastic recycling
Support US fiber and yarn mills
We demonstrate and encourage innovation and cutting edge technology​​